The Stow-Munroe Falls Public Library has joined CLEVNET, a change that makes over 12 million items available to library patrons of all ages. CLEVNET is a consortium of over 45 northern Ohio libraries across 12 different counties. It's also one of the largest library resource sharing networks in the United States.
With your Stow-Munroe Falls Public Library card you can:
Borrow materials, place holds, and have items delivered to any participating CLEVNET library.
Return CLEVNET materials to any library in the consortium. Items will automatically be checked in at the returning library and sent back to the owning library.
Check your library account, place holds, and renew material online through the "My Account" feature in the online catalog.
Access research databases to explore topics such as car repair, genealogy, consumer information, and medical information.
Connect to eMedia services to enjoy eBooks, audiobooks, music, comics, magazines, and videos from your device.
---
CLEVNET Tips
Log in to your account
In a web browser, go to the online catalog and in the top menu click "Log In".
Type in your library card number – you can find it on the back of your card. Do not include dashes or spaces.
Enter your 4-digit PIN. Please note that your PIN may have changed when the library transitioned to CLEVNET. By default it is the last four digits of the phone number in your library record. If you experience any problems logging in, our staff members are happy to reset your PIN for you. To do this, simply visit or call the library.
---
Set a default pickup library
Choosing your preferred pickup library helps save time when you request items. You won't need to select a pickup location every time you place a hold.
In the top menu, click "My Account".
If you're not already logged in, you'll be prompted to log in to your account.
Click "Personal Information".
Scroll down and click "Preferences".
Click the dropdown next to "Preferred Pickup Library" and choose your preferred location from the list.
Click "Update" to save your changes.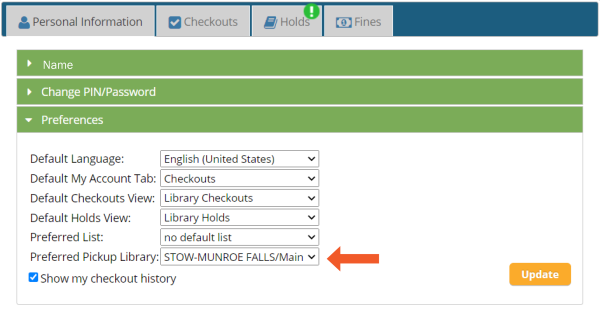 ---
Access Overdrive through the CLEVNET eMedia Collection
Previously, cardholders accessed Overdrive eMedia through the Ohio Digital Library. Now this is through the CLEVNET eMedia Collection (clevnet.overdrive.com).
If you use the Overdrive or Libby app on your device, you will need to go to your account settings, add a new library card, and search for "CLEVNET" as your library. Any holds that you placed earlier will appear on your account. If you have questions or need assistance, please visit the Information Desk, call (330) 688-3295 ext. 4, or email information@smfpl.org.
---
Access to hoopla
You may find you're unable to borrow items from hoopla. Re-entering your PIN should resolve the issue:
By default, your PIN is the last four digits of the phone number associated with your library account.
Log in to hoopla
Go to "settings" and click the "library" tab
Underneath your card number is the PIN field
Enter your 4-digit PIN
---
Automatic renewals
The library offers up to five automatic renewals on physical materials. The system will attempt to automatically renew items one day before they are due. An item will NOT renew if:
Someone else has placed a hold on the item.
The item has reached its renewal limit. Stow-Munroe Falls Public Library items will renew a maximum of three times. Renewal limits for other CLEVNET items will vary by library system.
Your account is blocked due to excess fines or fees.
If an item cannot be renewed, you will receive a courtesy notice (via the preferred contact method specified in your account) the evening before your materials are due.
---
If you have additional questions or need assistance, please visit the library or call us:
Adult Services – (330) 688-3295 ext. 4

Children's Department – (330) 688-3295 ext. 5

Circulation Department – (330) 688-3295 ext. 3